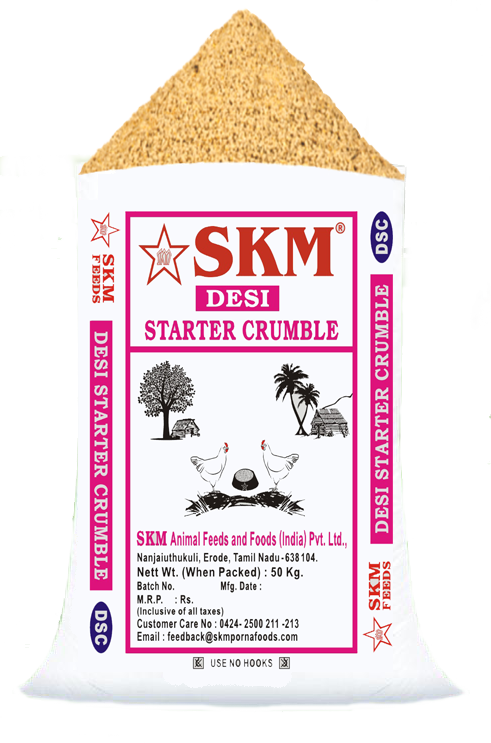 SKM Feeds has launched a special crumble feed for Country chicken in the name of Desi Chicken Crumble feed. This particular feed will meet the nutritional requirement of local Breed developed for meat purpose in India.
SKM Feeds have "State of the Art" feed plant with Modern Technologies to produce hygienic quality feeds for Livestock & Poultry. SKM Feed Plant is the single Largest feed plant in India. SKM Feeds have feed plant in two places namely Erode, Tamil Nadu and Chitradurga, Karnataka. Recently SKM Feeds inaugurated one of the finest, advanced and fully automated Feed Plant at Erode. Currently, SKM Feed Plant production capacity is 3300 MTs per day. Feed Plant has separate Lines for the Production of Broiler Feeds and Layer Feeds in Mash, Crumble and Pellet form; Cattle Feeds in Mash & pellet form. The computer aided, scientifically compounded, nutritionally balanced feed formulations done by highly qualified Nutritionist using tested and selected feed ingredients to ensure the fullest exploitation of the genetic potentiality of the Livestock & Poultry under ideal management and environmental conditions. The performance of the feeds under field conditions is constantly monitored by experts at trial farms located in various marketing centers.
SKM Production Department has a theme of "Quality is our Motto". SKM Feeds Production Department is well equipped with modernized Quality Control Laboratory which includes NIR to analyze Nutrient contents of Raw Materials & Finished Products.
Quality
SKM Feeds are well known for its Quality. Each and every raw materials and finished products are subject to stringent quality control analysis at the modern laboratory attached to the factory at Erode which also has facilities for all MYCOTOXIN analysis. All the raw materials are purchased on Quality guarantee basis only. Raw materials meeting the quality specification are only used for feed production. Finished product that meet our quality standards are dispatched to the market.
Our growth of more than 700% in less than 13 years stands as a testimony to our commitment to quality. The feed products manufactured by SKM have the nutritional values that meet International specifications and standards. They help the poultry and dairy farmers to increase productivity at the lowest cost, thus ensuring profitability and prosperity.